Tension Meter MST 500
Yarn tension meter with motorized take-up fixture for measuring and adjusting the tension of sewing machines to get best and highest quality stitched seams. Therefore e. g. yarn breaks can be adjusted under constant conditions (speed of the thread).
To control the tension at sewing machines as well as the take-off tension of shuttles.
 Storage of last, average, MAX MIN, PEAK-MAX, PEAK-MIN values as well as statistical analysis (average value) during a user-selected period
 Motorized take-up fixture to have constant speed of the thread 12 m/min
 Suction-cup base for positioning the unit on the work plate when tension is measured at the sewing machine
 Special fixture to determine shuttle tension
 RS-232 output for batch download or real-time data transfer to TensionInspect Software
 TensionInspect Software and RS-232 cable are offered as options. INQUIRE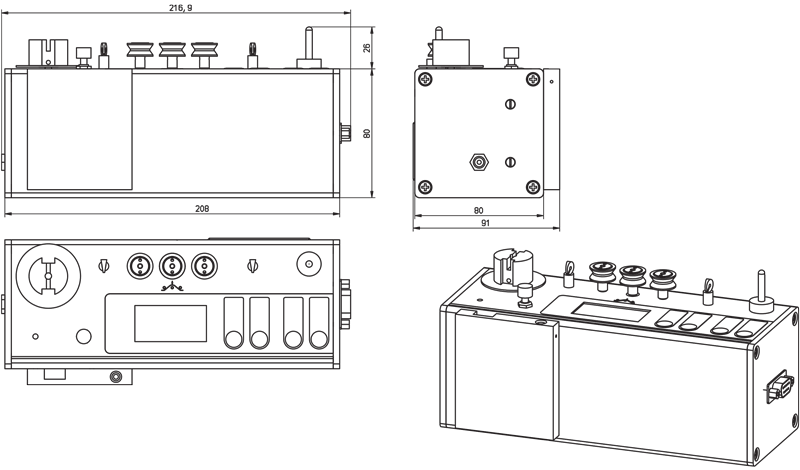 Accuracy
±0.5 % from measuring value ±1 digit or better
Overload
20 % full scale, without accuracy guarantee
Overload protection
100%
Measuring frequency
Max. 5 kHz
Damping
Moving averaging
Display
4 digit, 11 mm high
Display update time
2 times/s
Memory
Last, average, MAX, MIN, PEAK-MAX, PEAK-MIN
Output signal
Analog: 0 – 2 V DC, linearized, conversion rate 30 Hz
Digital: RS 232 (9600, 8, N, 1)
Vacuum base
Adjustable height for measuring position above working plate 120 to 220 mm
Temperature range
10 – 45 °C
Air humidity
85 % RH, max.
Power supply
LI-Ion Battery or 12 V AC Adapter for 230 V AC, option 115 V AC
Housing Materials
Aluminium