Liebert GXT3 (500 – 3000 VA)
The Liebert GXT3 is an on-line UPS that combines small size, high capacity and multiple features. Designed to be either rack-mounted or installed in a tower configuration, the UPS is available in 500, 700, 1000, 1500, 2000 and 3000 VA ratings, in both 120 V and 230 V models.
A true on-line UPS, Liebert GXT3 includes features such as power factor correction, internal batteries, frequency conversion, unlimited external battery connectability and internal bypass capability. And all this is housed in a smaller 2U size cabinet that cuts space requirements in half while providing up to 3 kVA of true on-line power – batteries included. The UPS can also be used with external batteries for extended run times.
A Windows configuration program, included with each unit allows the user to program a variety of operating parameters. This capability allows you to customize Liebert GXT3 performance to your specific requirements, providing a new level of power protection control and adaptability.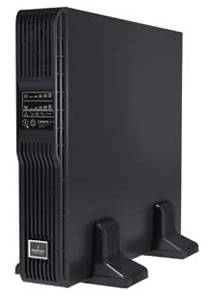 Liebert GXT3 UPS- Tower Configuration
Other Features Of Liebert GXT3 2U Models:
Microprocessor-based control and monitoring package
Input power factor correction
PWM inverter
Integral dynamic bypass
Integral sealed, non-spillable, hot-swappable battery
Automatic and manual battery test feature with push button and indicator
Input and output noise suppression
USB port
Liebert IntelliSlot communications port
Two-year no-hassle replacement warranty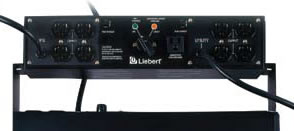 Optional Liebert MicroPOD 2U POD output distribution
and maintenance bypass module ensures continuous
uptime, even during UPS maintenance.
Liebert Power Monitoring Capabilities
The operation of the Liebert GXT3 can be monitored using:
Liebert MultiLink Automated System Shutdown Software
Liebert Nform Monitoring System
Liebert SiteScan Web Centralized Monitoring System
Third-Party Monitoring Systems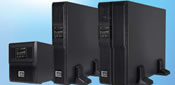 Liebert GXT3
500 – 3000 VA Rackmount UPS
The Liebert GXT3 UPS offers many benefits:
Flexibility:
Installs in either rack or tower configuration.
Detects and matches line input frequencies of either 60 or 50 Hz, automatically.
Provides compatibility with backup generator – handles frequency variations and other power fluctuations that occur during generator operation.
Allows selection of UPS features including input voltage, output voltage, auto-restart enable/disable, and other parameters.
Higher Availability:
Protects against and conditions all forms of power anomalies.
Assures continuity of power to critical loads during system maintenance or in case of internal fault with internal automatic and manual bypass.
Operates with a wider input voltage window for fewer transfers to battery, saving battery wear and tear.
Allows fast and easy maintenance with user-replaceable hot-swappable batteries.
Notifies users with advance early warning of UPS status via automatic and manual battery test feature.
Lowest Total Cost Of Ownership:
Corrects for frequency variations without switching to battery, resulting in longer battery life.
Protects your investment with a standard two-year warranty with paid shipping both ways. Also available with optional extensions of one year or three years.
Ideally Suited For:
PCs
Network workstations
Servers
Network closets
Large network peripherals
VoIP