Powerware Flywheel Solutions
Wherever maximum productivity and system availability is critical, the Powerware PF2 battery-free energy flywheel storage system bridges the power gap, acting as a backup power or battery backup source during power quality or utility disturbances and acts as an effective UPS battery enhancement, battery backup system, or UPS battery replacement for traditional systems.
The Powerware PF2, a DC battery-free energy flywheel storage technology, is an integrated motor-generator-flywheel that stores kinetic energy in a constantly spinning, quiet, low friction steel disc. Compared to traditional UPS battery backup systems, the Powerware PF2 dramatically reduces space requirements, temperature restrictions, UPS battery replacement cycles, and maintenance costs while improving UPS system reliability and operational integrity.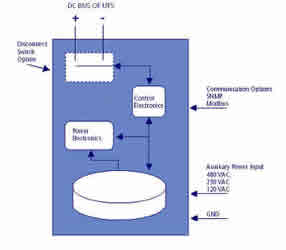 Flexible sitting

Reduced maintenance cost

Over 20 years of useful life

High power density in a small footprint

Non-toxic and non-corrosive

Real-time monitoring of over 25 system parameters

Only two terminal connections

Remote monitoring by PowerVision software

Maximum Availability

Powerware PF2 can parallel up to 8 flywheels to increase ride-through time or provide redundancy

N+1 upgradeable

Fast recharge time (under 150 seconds)

Long, useful life

Soft-start UPS integration

Maximum Reliability

Self-diagnostics

Remote notification (email and /or paging)

Remote monitoring (network and/or modem)

LCD monitor/control panel

Microprocessor-based monitoring system

Alarm status contacts

Log file store up to 2000 events

Maximum Performance

High power density (very small footprint)

99% efficient

Quiet operation

No special facility requirements

Low maintenance cost

Adjustable voltage setting

Battery hardening capability

On-board DC disconnect

Simple plug and play installation
Input Specifications
Float voltage range
400 to 600 volts DC
Minimum charging current required
15 ADC (250 kW)
30 ADC (500 kW)
Output Specifications
Adjustable nominal discharge voltage range
360 to 550 volts DC
Maximum rated power
between 480 VDC and 550 VDC
DC voltage regulation
±1% steady state
DC ripple
<2%
Environmental Specifications
Operating temperature
-20°C to 40°C
Non-operating temperature
0°C to 70°C
Relative humidity
<95% non-condensing
Altitude
Up to 4,000ft (1220 meters) with no derating
Audible noise
72 dBA at 1 meter; in accordance with ISO 7779
Typical heat dissipation
<3 kW or 10,250 BTU (250 kW) or
<5 kW or 17,050 BTU (500 kW)
System Dimensions
42″W x 34″D x 78″H
(107 cm. W x 86 cm. D x 198 cm. H)
Cabinet Footprint
10 sq.ft. (.93 sq. m.) (no rear or side access required)
Weight
250 kW – 3,800 lbs. (1724 kgs.)
500 kW – 6,000 lbs. (2727 kgs.)